The construction industry has been one of the slowest moving industries to get into technology. Most things were done by pen and paper which leads to a disconnect between the field and the office. This can be confusing and often leaves a feeling of disorganization. Oracle Primavera has done a great job developing software that works for leaders in the construction industry. But in order to open the files, each user needs to have the software. NEO-Project App has developed a tool that makes this process easier, and more cost-effective.
To put it simply, NEO-Project App is an Excel Add-in used to open primavera P6 exports (XER) directly in Excel with the layout used in P6. With this tool, you can distribute the schedule to your stakeholders for their review, implementation and comments without requiring them to have any additional software. Developing tools and features in our toolbox to help project teams be more productive in their daily tasks is important to us.
Here are some of the features included with our toolbox:
See the Project Schedule native files (XER) with Excel

You can open any project XER files and activities with or without Gantt Chart. If you have specific filters or layouts in P6 you can import your own layout (PLF) file. You can also eliminate the completed activities and show only remaining ones.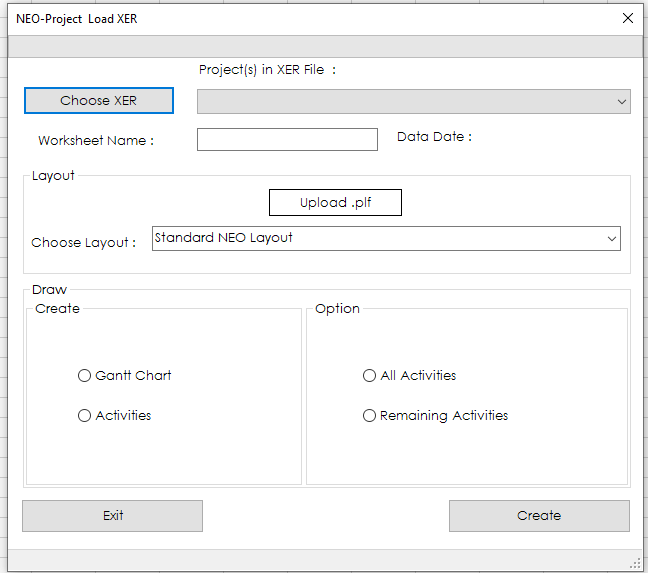 Reopen already opened XER files and open different views-layouts (PLF)
Until you delete the already opened XER file or layout, all the imported files remain accessible within Excel.  For different viewers, you can take different printouts or send the files to stakeholders within Excel.

Activity Relationships
When you take an XER file or PDF printout of any schedule, it could be difficult to review the schedule logic. Trying to understand this based on the column reflecting it is almost impossible, with NEO-Project App you just right-click and select 'relationships' from the menu. No need to search and find the predecessor or successor from the activities list!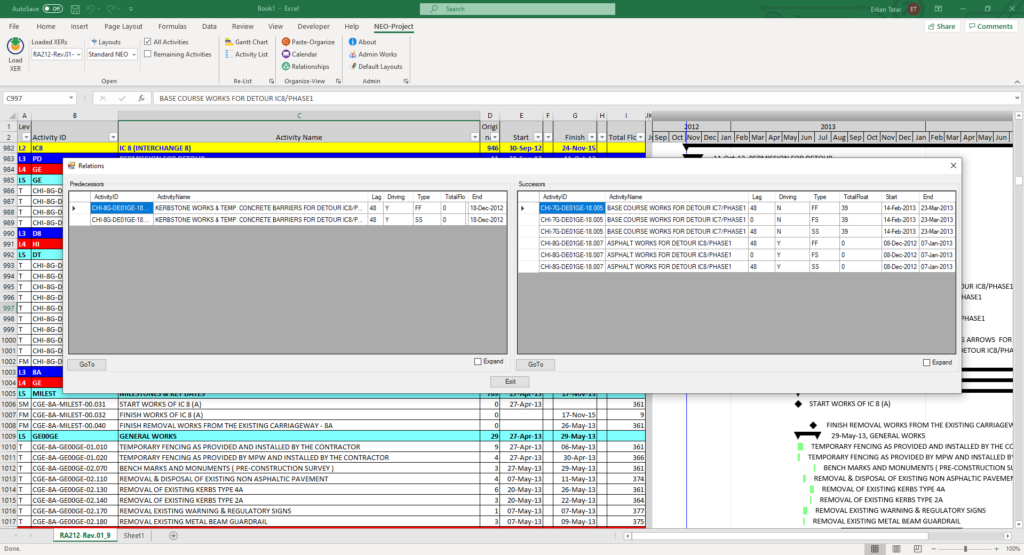 Review the Calendar Information
Whenever after you import XER file in Excel you can just right-click and select 'calendar' from the menu. You will see the calendar used on the selected activity and check on and off days.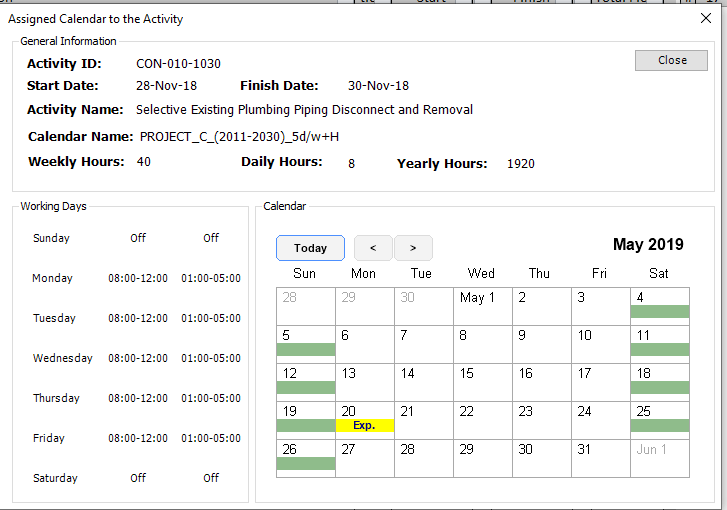 Re-organize the pasted P6 data in Excel
Whenever you copy & paste the P6 activities into Excel, it unfortunately comes without format. Our toolbox prevents you from spending extra time reformatting by allowing you to just right click and select 'paste-organize' from the popup menu.
Each of our subscriptions come in monthly, quarterly, and yearly pricing structures, which you can view in more detail by visiting this page.  Within those pricing structures you will receive 
Monthly Subscription = 7 DAY FREE TRIAL
Quarterly Subscription = 14 DAY FREE TRIAL
Yearly Subscription = 28 DAY FREE TRIAL
Instead of changing your planning & scheduling processes, or spending your time learning new software, we aimed to give you a tool that will increase your productivity, within your standard office programs.  As always, this project is forever evolving and we are looking forward to finding more improvements to incorporate in upcoming versions, your suggestions are always welcome!