If you're a construction business owner, then you know that project management is essential to your success. There are a lot of different construction project management tools out there that can help you manage your projects more efficiently, but which ones are the best? Construction project management entails coordinating various tasks to complete a building or structure. The better you manage your projects, the more likely they will be completed on time and/or under budget. This blog post will discuss 5 construction project management tools you may need to use.
1. ProjectSight
According to their website ProjectSight "provides a construction management solution for your teams that enables consistency across all projects. As a result, you have the forward-looking information you need to proactively manage your projects." With features that are responsible for budget & cost, document, and field management combined with the drawings and 3D BIM viewer this is a tool that you will want to utilize if you aren't already.
When it comes to construction project management, ProjectSight says that "control is everything". This SaaS application was built to offer support to teams who are managing projects from single-source collaboration and constructive data so you can deliver on time and within budget. Not to mention, ProjectSight is integrated with e-Builder Enterprise to instantly connect you with the project owner, so that you can prevent double data entry. You can "easily share RFI, submittals, and schedule of values directly to e-Builder"
Construction budget management software that is constantly tracking your team, to better manage each project's finances to maximize profits and minimize cost. "With over 25 years of successful project deliveries, ProjectSight provides the forward-looking project financial information you need to make better decisions on all of your projects." They can help your company gain visibility (get relevant, timely, and accurate forecasts), eliminate surprises, and protect profitability to ensure you get paid on time.
Their construction document management software enables your team to share drawings, documents, RFIs, and submittals which helps to ensure that all stakeholders are working from the most up-to-date information available. This feature helps to eliminate paper, establish trust with your clients (ensuring documentation is thorough, complete, and recorded), and creates accountability for your team's responsibilities and action items.
Pros:
Improve team's productivity – puts an end to project paper-trail for forensics and holds all project team members accountable for their part.
No more chasing paperwork – all RFIs, Submittals, change orders & reports in one platform
Build efficient processes – allows you to quickly capture, communicate and collaborate around critical information in the office or the field
Cons:
Hard for non-techies to master
It takes some getting used to
No mobile app option yet
2. Procore
This tool is a must-have for building contractors. According to their website "Procore breaks down communication silos from pre-construction to closeout so you can build with less risk and better profits". Delivering projects on time and within budget won't be a problem, as you can manage your entire project from the app – wherever you may be.
This construction project management tool is easy to use and is built specifically for the construction industry – by having one focus Procore can find building solutions for unique challenges. By using one platform, they have streamlined communications by connecting the entire team (field or office) on a single mobile platform. Combine these with their world-class customer support network and you are sure to be satisfied with this tool.
The app platform allows for unlimited team engagement within their company section, giving the user full access to expert review packs and downloadable site reports for fast sharing with coworkers or clients. The entire project will be visible from start to finish allowing them to avoid unforeseen surprises at any cost! Procore Multi-Channel provides access to real-time information through updated products such as construction blueprints, wireframes, etc. The structure and applications have been built to support interactive design tools and generate various reports for documentation in real-time for the largest construction projects.
Pros:
Flexible integration options (300+)
Collaboration and communication features
Documentation capabilities
Cons:
Innovative pricing model
Some technical difficulties
3. Fieldwire:
According to their website "Fieldwire's apps are expertly crafted to benefit every job on the project" including general contractors, specialty contractors, owners, architects & designers! Fieldwire is known for being the all-in-one tool for the Jobsite – where everyone on the team can come together to collaborate and share information in real-time. By allowing you to be able to coordinate efficiently, Fieldwire assigns tasks, allows you to work from drawings, and align the field & office, all from any device. This coupled with its ability to track performance (know exactly who did what, create schedules, etc.) helps you reduce risk by creating an indisputable record of work you have performed.
Reduce your emails and still get work done with their real-time messaging, scheduling & reporting, and the ability to track everything right in the app. Including tasks, punch lists, and inspections – you can record inconsistencies or issues on-site, or mark up plans with notes, photos, and/or videos. Procore allows instant creation and editing of resources that interact with Fieldwire like any other collaboration tool. The managing team member can also click through individual pages within those areas remotely, allowing reordering based on the client's necessities without waiting 24 hours for agreed-upon changes. This is all embedded within the whole user project. Easy access to wireless notifications on their PCs and Macs; projects initiated or modified within any region can be grouped or searched for a title task by itself. Different views for Jobs without Project name and properties of the software gives people proper judgment by dividing it according to priority levels and available support staff.
Pros:
Real-time enhanced collaboration among members
Drawing management and ease of access are key features
Simple but powerful interface
Cons:
Pricey service
Limited features
Lack of a mobile version
No direct connections with cloud
4. Primavera P6
Primavera P6 is one of the best construction project management tools used in the construction industry to manage workflow, project tracking, resource planning, and time management for the betterment of client satisfaction. With solid, tested software that is much faster in design than numerous others, with powerful essential web-based applications and a clear user-centered business structure, delivers modules that have been used for years in the construction world.
If we dive into Primavera P6, it is a tool that works with everyone from the highest level of management down the line of team members on the project. Some of their key features include timelines (traditional Gantt chart to schedule tasks on a bar graph, risk management (identify, track and resolve risks), information dashboard, reporting & analytics (able to generate status reports), resource analysis & allocation, calendar views, contract management (multiple at once), and scheduling alerts (know what's due when).
Pros:
Faster than most other programs with a higher retention rate
Advanced scheduling capabilities
The dashboard allows users to manage a single project or even a portfolio easily
Comprehensive documentation with helpful online training
Able to integrate directly with other databases
Cons:
Expensive compared to other similar services
There is a learning curve – can take up to 40 hours with a specialized trainer to get comfortable
Better for larger projects, not ideal for smaller ones.
5. NEO-Project Toolbox
NEO-Project Toolbox is an Excel Addin to open Primavera P6 Export Files (XER Files) with Layouts. This construction project management tool also brings additional information to allow you to make an analysis. You can open any Primavera P6 XER files and show Activities with or without Gantt Chart. It also can open Layout Export files (PLF) with the XER files so you can see your schedule in excel as you see in Primavera P6.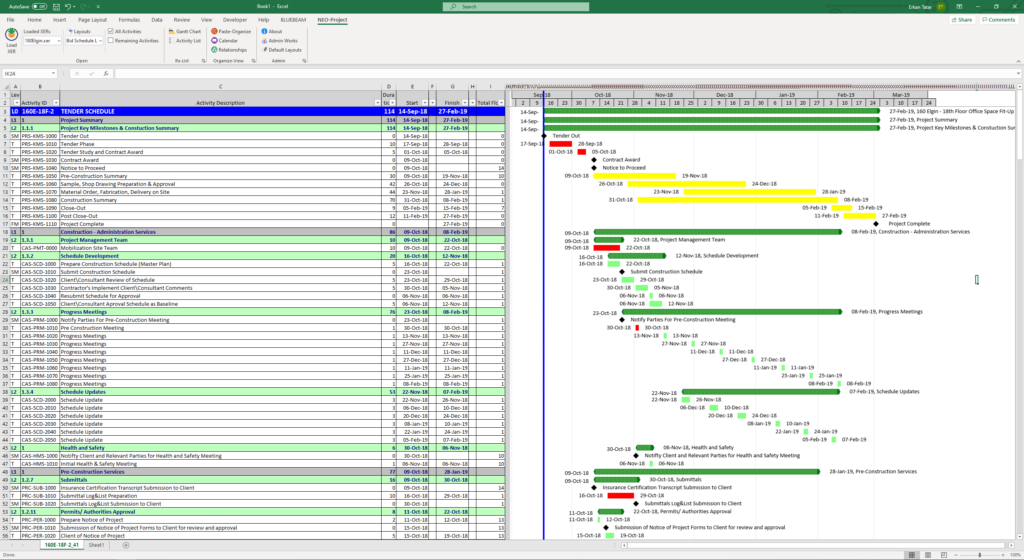 When you take a printout of any schedule, it could be difficult to review the schedule logic.
Trying to understand the activity logic based on the column reflecting the relationships is almost impossible. With NEO-Project Toolbox after you open your XER file, you can reach activity relationships as you see in Primavera P6. And also you can review the activity calendar assigned to an activity.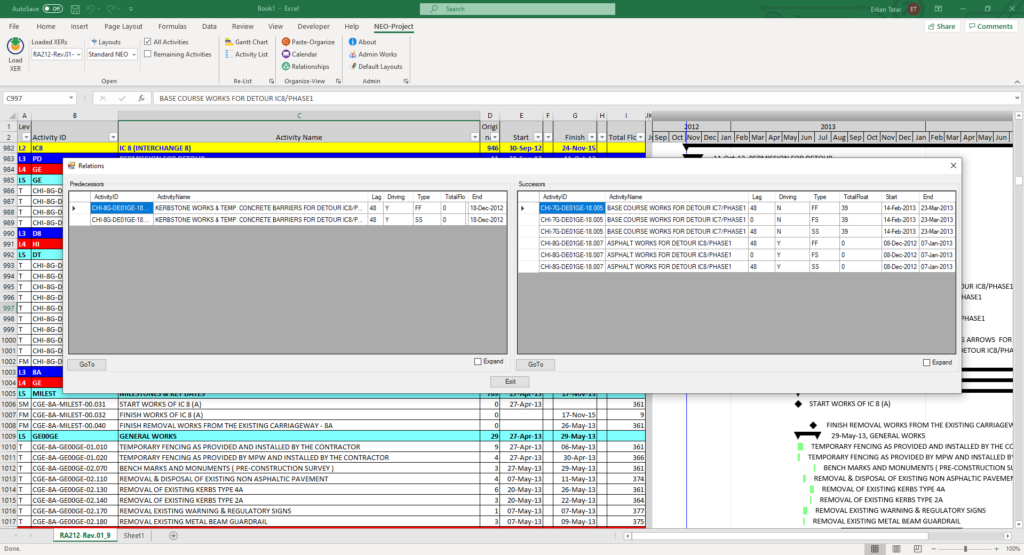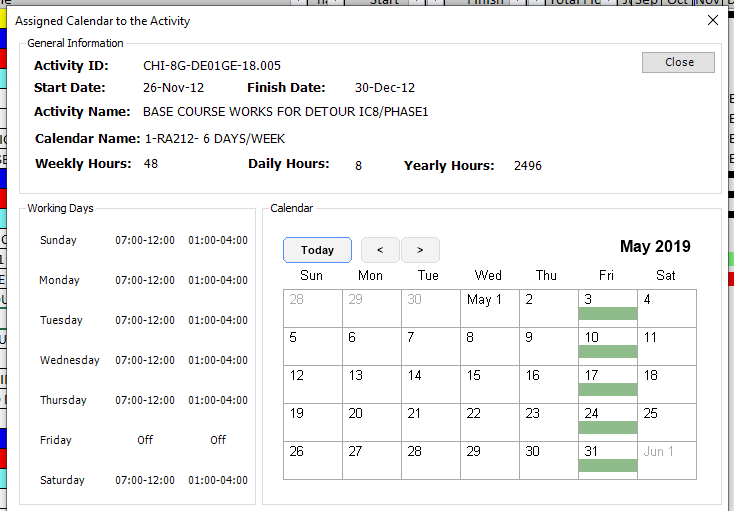 One of the major benefits of the NEO-Project Toolbox is the copy and paste operation from Primavera` P6 to Excel. When you copy and paste information from P6, unfortunately, it comes without format. You don't need to spend lots of time organizing the data you transfer.
Just one click NEO-Project Toolbox automatically organizes your data. You can send your team members the Schedule Activities for their report preparation or schedule revision studies. It provides its users with everything they need to create effective schedule communication, track progress, easily share documents, and much more.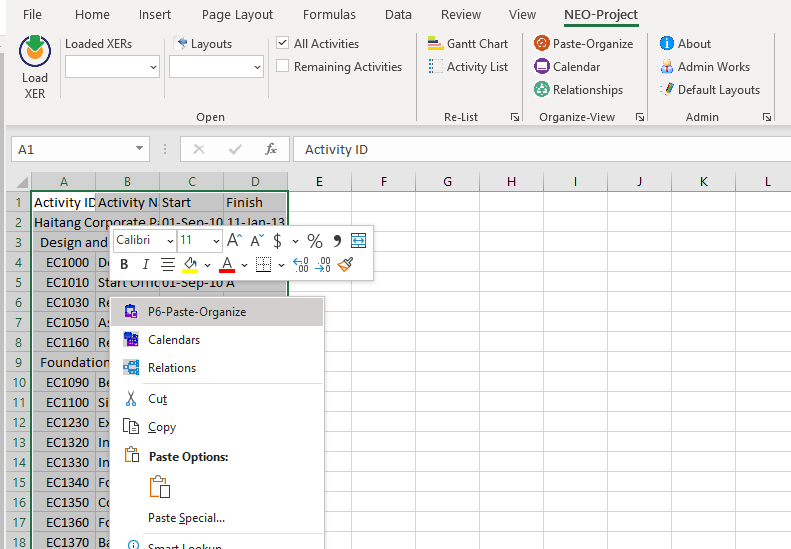 Pros:
Great interface
Easy navigation
It does not change your process to manage your schedule
Simple yet powerful
No need to change the tools you're using
Cons:
It does not allow to reschedule the existing data for what-if analysis in Excel
Keynotes for ProjectSight, Procore, Fieldwire, Primavera P6, and NEO-Project Toolbox
• ProjectSight is a web-based project tracking tool capable of linking with GoogleDrive, Files, and Dropbox, making it easy to manage the project from beginning to end efficiently. The modern user interface has various screens to suit multiple project-related tasks.
• Procore provides the best features for managing projects easily. Compared to existing tools, this one provides superior features such as integrating with Google Apps. The online search feature helps users find relevant material within the document library for faster access. For seamless communication, the client can always send messages in real-time with the help of an integrated instant messaging feature. It has a handy component that allows its users to compare various timetables in different projects, minimizing work repetition through a collaborative working environment. This component also contains a seat planning toolkit to properly plan people's positions on the worksite, which also acts as a core execution toolkit giving alerts like online resource hourly report alerts when requirements per specs are available, etc.
• Fieldwire solution assists clients by providing hands-on access to a complete project life cycle through mobile devices built-in services like real-time monitoring and commencing the service upon identifying material fail or substitute process parameters (leverage app ecosystem). With Fieldwire, users can streamline connections between building trades cooperatives to plan and integrate the latest technologies. Consistent project management is ensured by using timecard solutions and risk mitigation solutions to equip users with relevant insights of threat, financial, and safety implications of feasibly increased and current status of the building project before its commencement.
• Primavera P6 provides a space where every user can collaborate without going through the entire Gantt Planning Process. With P6, users can freely share, upload, and synchronize personal data with Gantt chart editor's editor functions, etc. immediately, easily, and continuously, saving valuable time which is otherwise wasted in the rehosting project information, which unnecessarily wastes resources in free space for resource management solutions.
• NEO-project Toolbox has been built by an organization that offers several backend solutions to businesses worldwide. This has made it extremely easy for construction industry professionals to manage their projects effortlessly. Allowing them to focus more on the core competencies of their profession rather than spending endless hours on mundane tasks.
In conclusion, these five construction management tools are our recommendations to construction project managers to achieve success in the construction industry. These offer great support in terms of ease and efficiency during pre-construction and post-construction phases.