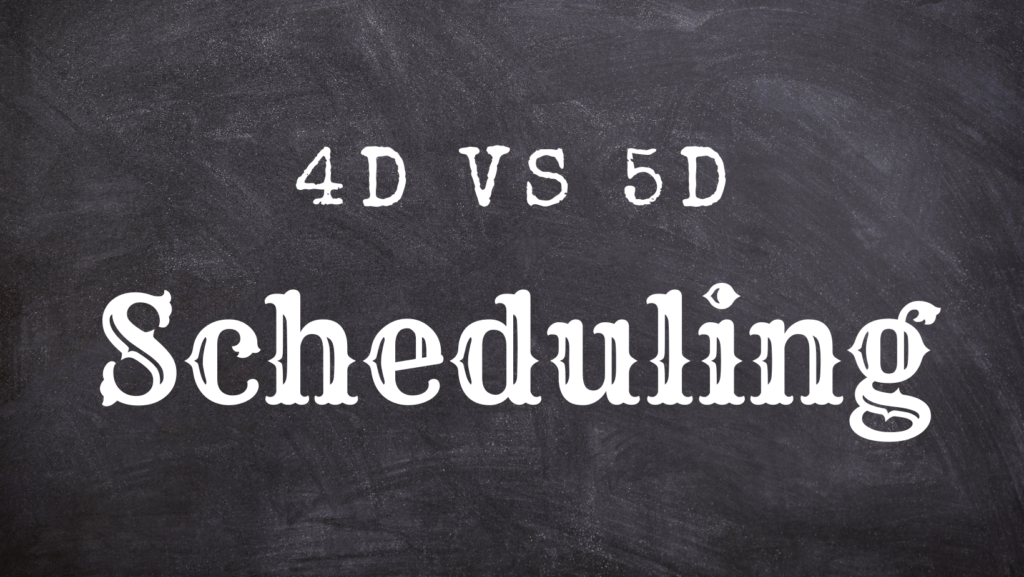 The 4D construction scheduling model isn't new. However, with advancements in technology, the 5D model is getting a lot of attention from the construction industry. So, what's the difference between a 4D and 5D model? And more importantly, what does this mean for the construction project manager and the project overall? We'll break down all of the differences between these two models so you can achieve your ideal result through 4D or 5D scheduling.
What Is 4D Scheduling?
4D scheduling in construction is the process of adding a time dimension to 3D BIM models. It is the practice of creating an animated simulation that simulates the building process. It usually involves linking a 3D model to a project schedule, so that time and duration are represented in the model. The result is an animation that accurately depicts how a building will be constructed over time.
What Is 5D Scheduling?
5D scheduling is an extension of the 4D construction scheduling model. It adds the cost estimate to the schedule. The 5D model visualizes both aspects, including graphical information about time and costs on the same chart.
The model offers a detailed look at the cost of a project. It allows you to track changes in costs throughout the lifecycle of a construction project. The schedule also forecasts future costs for a given set of tasks.
In practice, construction scheduling tools integrate with financial management applications to access cost information from other sources. This way, it can present data on cost estimates, expenditures, and forecasted costs in real-time from one integrated dashboard.
Significant Differences Between The 4D and 5D Scheduling
The 4D process is typically based on the work breakdown structure (WBS) and the 3D model generated by a 3D modeling software package. The 5D process is based on the WBS, the 3D model, and an itemized estimate.
The fourth dimension refers to time, while the fifth dimension is cost. The 5D includes quantity take-offs for labor, equipment, and materials for each activity and its time schedule.
The 4D model only shows an animated view of the construction project schedule, while the 5D model provides a detailed cost estimate with animation capability.
4D is used for visualization purposes, while 5D combines visualization and cost forecasting.
4D BIM has been used in the design and engineering phases of the project lifecycle. The 5D BIM has been used during estimating and construction phases of a project's lifecycle.
Similarities Between 4D And 5D Scheduling
Here are some of the common characteristics of the 4D and 5D construction scheduling models:
Both use time as the primary dimension in their visualizations.
Both represent schedule elements as graphical objects that can be grouped or nested.
You can use both to plan and track projects.
Both allow you to manage multiple schedules within a single file.
Both incorporate 3D models as part of the schedule visualization.
Both can easily be integrated with other software tools.
Both use a non-standardized graphical interface, which requires a learning curve to understand how to get the most out of them.
Both use a construction schedule as the basis for their project model.
Pros And Cons of 4D Scheduling
Here's a quick rundown of the pros and cons of 4D scheduling:
Pros of 4D model
It's visual: Seeing your project laid out in four dimensions (time, space, and resources) is incredibly helpful in communicating the scope of the project and the work that needs to be done.
It's useful for planning: With a 4D model, you can visualize the schedule and understand how your resources will flow through the project. This can help you plan logistics, identify bottlenecks, and predict the cost of your project.
It's accessible: You don't need a lot of 3D modelling experience or training to get started with 4D scheduling. Some construction management tools offer drag-and-drop features that make it easy for anyone on your team to create simple models quickly.
You can generate reports that help you understand the impact of changes to the project, including delays to critical path activities.
It helps you Identify Potential Problems Early on During the Design Phase.
Cons of the 4D Model:
It's not real-time: If anything changes, you have to go back and update your 4D schedule.
You also have to create a new schedule for every change in plans.
It's not compatible with most other software programs: Since 4D schedules are created using specialized software, they're often incompatible with other programs you might use in your project. It makes it challenging to integrate your schedule with other components of your project management software.
It takes too much time: Creating a 4D schedule takes a lot of time, especially when using an older model with less-developed technology.
The other disciplines (engineering, procurement, and construction) cannot see how their activities fit in with one another.
Pros and Cons of 5D Scheduling
The benefits of the 5D model include:
Improved budget accuracy: With a detailed and accurate BIM model, you can perform accurate quantity take-offs and get a more precise idea of how much your project will cost.
Realistic schedule: The 5D schedule takes into account the duration of each task, which isn't the case with 4D scheduling. As such, your schedule will be more realistic and accurate.
Improved collaboration: A BIM model is a central repository for all project information, which means that everyone will have access to the same information at any moment. It allows everyone to collaborate on the same platform and reduces emailing, phone calls, meetings, and the risk of miscommunication.
Visualization: A BIM model can be viewed in 3D by anyone with an internet connection through a browser-based viewer. You can share your model online with clients, partners, and subcontractors to discuss how the project is progressing.
It helps eliminate rework by giving stakeholders insight into potential issues before they become problems during construction. You can also save money by avoiding unnecessary change orders.
Cons of the 5D model:
Here are some of the major reasons why 5D construction scheduling can be challenging:
It requires integration between multiple software programs: You need a system that allows you to export your project from your BIM software into separate scheduling software.
It requires accurate models: You have to have enough detail in your model for it to serve as a resource for cost estimating, which can be challenging to get right.
It's more time-consuming: Building an accurate model and then exporting it into a separate scheduling program takes more time than using native scheduling functions in BIM software.
It's dependent on accurate information from the field: To link the schedule with actual progress in the field, you need labor and equipment tracking. That requires constant communication between office and field staff, plus hardware like tablets or scanners in the field.
Because it's so complex, those who aren't trained in the method can find it hard to understand what they're looking at in terms of timelines and budgets.
If your team doesn't have access to reliable data, they can get shut down in correcting errors instead of using this method to its full potential.
Which Is Right For Your Project?
4D or 5D scheduling is a question that comes up a lot in the Architecture, Engineering, Construction and Operation industry. For most professionals, the terms are interchangeable. And for most projects, a 4D or 5D model will get the job done. When should you choose a 4D vs. 5D construction model? It depends on several factors.
For straightforward construction projects, 4D scheduling works well. For more complex projects, especially those with multiple stakeholders, the 5D model is the better option.
How detailed do you need your schedule? If your organization requires simple schedules without much detail or complexity, 4D will be sufficient. If you require greater detail and complexity, 5D is usually the best choice.
How detailed do you need your cost estimates? If you only need a rough estimate of the overall costs for each activity in your schedule, 4D is a good choice. The reason is, it can provide a quick estimate of labour costs at least. If you require more accurate material and labour costs estimates, 5D is a suitable model.
Why Use Our Neo-project App For Your Project?
Neo-project App has been designed with the sole purpose of helping our users better manage their projects simply yet effectively. This app allows you to transfer schedule information to excel and help to visualise your projects in 4D and 5D and provides insights into the construction process and costs. Neo-Project Toolbox is the perfect tool to transfer the project information to a commonly used platform (excel) and help your integration of schedule, design and cost information. It gives you a great flexibility to use different solutions in 4D and 5D planning. It is perfect whether you manage a small building renovation or a large-scale infrastructure development.
Our easy-to-use Neo-Project Toolbox is designed for project managers, construction estimators, contractors, and anyone involved in planning construction projects. Rather than learning a new program or sending your employees through training, we offer a simple way to make their jobs easier. Our app is easily integrated with the common office programs. Register today and take advantage of the subscriptions with the free trials.